:::
The Current Exhibitions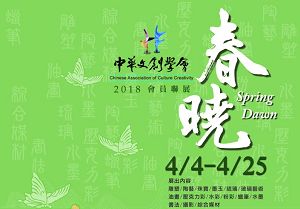 Date/Time :
107-4-4~107-4-25
Venue :
Exhibition RoomⅠ、Ⅱ
Exhibition Institute :
The Sculpture Association of Taiwan
This year, the staff of the Sculpture Association of Taiwan and Chinese Institute of Cultural & Creative Industry has gathered art works, including paintings, 3D sculpture and various designed art works, to arrange for them to be displayed at the National Taiwan Arts Education Center in spring when all flowers come into bloom! At the exhibition area, visitors will get to see various kinds of Taiwan art pieces and the abundant energy and creativity of Taiwanese artists. It's indeed the perfect choice for art lovers during the spring season.