內  容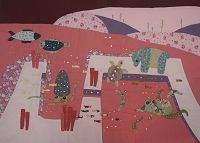 「虛幻迷走的創作領域,瀰漫著創作者的天馬行空;真實的創作空間,填滿了執筆者的純粹悸動,游走在虛實交界處,發掘屬於自我的想像。」
創作上的虛與實,就好像生活中的理性與感性,兩者既分離又相容,就像我們的創作人生,畫筆下的萬馬奔騰。
聚焦賞析:這次的展覽我們想要將多年來學習藝術的成果展現出來,透過展覽空間將我們的理念傳達給更多人知道,也希望透過這次的展覽能帶給觀眾奇幻的想像之旅。
"The illusory world of art creation is filled with the unchained imagination of creators; the real world is filled with pure emotion of creators. Walking between the boundary where reality and the illusory world intersect is to find imagination that is mine alone."
When it comes to art creating, the real and unreal is like sense and sensibility in real life, for they seem separate from each other but actually are compatible with each other. It's like our journey of art-creating and the objects we create with brushes.
Focus:The exhibition aims to display our years of hard work. Our ideas will be shared with more people through the exhibition space and hopefully the audience will set out on a journey of imagination with our works.