內  容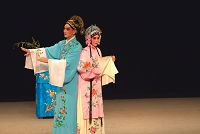 臺大崑曲社的六十屆公演,取名為《情不知所起》,為牡丹亭之中的名句,蘊含和崑曲結下的不解之緣,希望能夠藉由演出拉近觀眾與崑曲的距離,讓更多人了解崑曲之美。
聚焦賞析:《牡丹亭•遊園》、《牡丹亭•驚夢》、《牡丹亭•尋夢》、《玉簪記•偷詩》及《浣紗記•寄子》皆為經典折子戲,歡迎大家於端午連假時前來觀賞!
The 60th performance brought by Kunqu Club, NTU is named "The Origin of Affection Not Traceable" – a famous quote from "Peony Pavilion" and it implies the inseparable bond between Kunqu and the club. Hopefully, through the performance, audiences will get to know Kunqu better so that more people will start to appreciate it.
Focus:"Strolling in the garden from Peony Pavilion", "Dreaming from Peony Pavilion", "Love through A Poem from the Jade Hairpin" and "Jizi from the Beauty Washing Silk by the River" are all classic highlights of Kunqu. Please come and have a great time with us during the Dragon Boat Festival.