內  容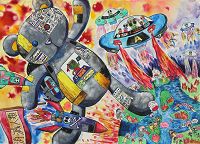 走入第八屆的"海峽兩岸少兒美術大展",以"未來會怎樣?"的主題,邀請兩岸四地的孩子們一起用彩筆天馬行空地暢想,展開一場腦洞大開的穿越。對於未知的時空,我們有好奇、憧憬與忐忑;不可知的未來,就像有分叉小徑的花園,充滿著神秘的變數。在此,就讓孩子們作為嚮導,引領我們來一次奇妙的穿越之旅吧。
聚焦賞析:從個人到宇宙,在未來都會怎樣變化呢?孩子們對此有不同的期待和擔心。兩岸四地各自的社會和教育影響,通過這場美育交流來呈現,讓人在觀賞的同時,也有進一步的思考。
Let's walk into the eighth Cross-Strait Exhibition of Children's Fine Arts & Painting around the theme "What Does the Future hold?" Children from four different areas on both sides of the Taiwan Strait will unleash their imagination with their brushes and set out on a journey that will broaden their horizons immensely. Facing an unknown future, we have curiosity, expectations and uneasiness; the unknown future is like a garden with many different paths, full of mysterious variations. Here, let kids be our guides to lead us as we experience this magic journey that transcends time and space.
Focus:From individuals to the universe, what changes will the future bring? Children have their own expectations and worries. The influence of different societies and education in the four areas on both sides of the Taiwan Strait will be displayed through this exhibition. Appreciating these paintings provides us an opportunity to do further thinking.