內  容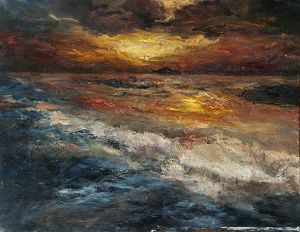 在一般人眼裡,校長只是經營學校的行政管理者,但是,此次參與展出的藝術家校長們不同,她(他)們除了是優質的學校經營者之外,更在公忙之餘,投入藝術創作,並進一步地將藝術的養分與校務治理融為一體,使藝術扎根於校園,讓學生在耳濡目染中接受藝術的薰陶。
聚焦賞析:此次展覽內容包括書法、水墨畫、油畫及膠彩畫等,類別豐富,猶如爭奇鬥豔之夏荷喧嘩,值得在孟夏時節,一品這場藝術饗宴。
In the eyes of the general public, principals are administrative mangers running schools; however, you can't say the same about the principals participating in this exhibition. In addition to being outstanding school managers, they devote their time outside school to creating art and what's more, incorporating artistic nourishment into their ways of running and managing schools so that the seeds of art are planted on campus and students' sense of art is cultivated in such an environment.
Focus:The exhibited paintings include Chinese calligraphy pieces, Chinese ink paintings, oil paintings and gouache. So many different types of paintings are like blossoming lotus in summer that you can't miss in this mid-summer season.