:::
The Current Exhibitions
Open the World to Art Education — The 40th World School Children's Art Exhibition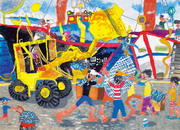 Date/Time :
98-8-28~98-9-20
Organizer :
National Taiwan Arts Education Center
Taiwan's 40th World School Children's Art Exhibition offers children a platform for creating and appreciating paintings. In participating, children can be immersed in free, open, and playful culture. Using an open mind, they can express themselves through painting process, break the language and word boundary, create symbolic situation and master their inner desire. Meantime, they can overcome obstacles about social communication. These become the main reasons why such a kind of painting exhibition has become profoundly popular for many years. We welcome people, especially those who care about and feel interested in art education, to come to watch this exhibition.