:::
The Current Exhibitions
Opening Up "The Box" of the Nanhai Theate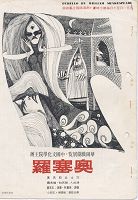 Date/Time :
106-5-2~106-6-29
Organizer :
National Taiwan Arts Education Center
The exhibition starts with "The Box" (1977), a show brought by the Graduate Institute of Theatre Arts of Private Chinese Culture University and a walk down memory lane to open up more boxes that were performed in Nan Hai Theater which includes the introduction of "Shakespeare's plays in Taiwan" in the 70s, " from 'A box' to experimental theatre" in the 80s, "new aspects for theatre of new generation" and "the hustle and bustle theatre black box" after the 90s, together, these four sections display the 60-year history of Nan Hai Theater.
Focus:It's been 60 years since its establishment, thanks to all artists who brought their performances to Nan Hai Theater for they are the reason that the curtains are opened and lights are turned on. Through this exhibition, we get to take a good look at the hard work behind all these amazing performances.