:::
The Past Exhibitions
Poetic Sentiments Under a Bright Moon-Muslim Culture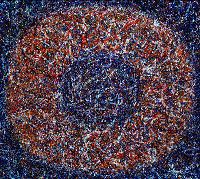 Date/Time :
106-4-1~106-4-23
Exhibition Institute :
Taiwan Project Management Association
"The Moon" is the main idea; the exhibition displays the carefully-chosen abstract paintings of Islamic culture and philosophy created by Zhang Man-Li since 2014 as well as Chinese calligraphy interpreting Zhang's 2016 latest series "Moon Reflected on Rivers", leading visitors to appreciate paintings via poems. In addition, colour-ink paintings by Cai Mei-Fang and ink and wash paintings -- the Horse Series -- by Shi Qing are also exhibited, offering the audience another way to engage in an aesthetic dialogue that crosses culture and art: when Muslim culture and art encounter the beauty of Chinese characters.
Focus:The moon is the main idea of the exhibition. The power created by the intertwining of points, lines, color blocks of abstract paintings will lead the audience into the world of Islamic art through the beauty of Chinese poetry and paintings and ultimately inspire recognition and emotional response.