:::
The Past Exhibitions
The 44th Anniversary Special Issue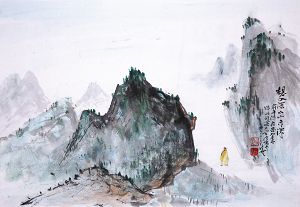 Date/Time :
107-5-12~107-5-30
Exhibition Institute :
The Institute of Hiuwan Studies R. O. C.
The Buddhist Art Exhibition was established by the founder of Huafan University – the late Master Ven. Hiu-Wan in 1974 and this year marks its 44th exhibition. The purpose of this exhibition has always been commemorating the birth of Buddha with Buddhist arts and hopefully to turn people's worrying into cool breezes; since the passing of the late Ven. Hiu-Wan, another purpose of this exhibition is to commemorate his art cultivation and grace.
Focus:The theme of this year is "Sitting down and Watching Clouds Rising –Kindness of the Late Master Ven. Hiu-Wan" and more than 50 pieces of Chinese Calligraphy and paintings will be exhibited to spread the late master's kindness and his journey of learning Zen. The exhibited art pieces include "Sitting down and Watching Clouds Rising", "Shadow of Buddha", "The World of Clouds" and "Sitting Together in the White Cloud Temple"...