:::
The Past Exhibitions
The Distance Between Us and Inks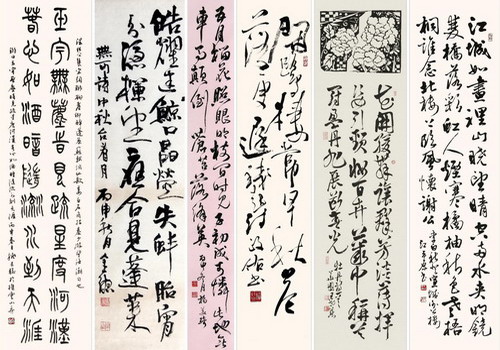 Date/Time :
108-8-10~108-8-25
Exhibition Institute :
Hanlian Chinese Calligraphy Club
The Hanlian Chinese Calligraphy Club is composed of artists each of whom specializes in a different style and is currently under the leadership of Mr. Wu San-Xian, an artist who has earned permanent exemption from censorship in the Taiwan Provincial Fine Arts Exhibition. The members hold a gathering every two months to discuss Chinese calligraphy, take a close look at different styles, and observe other Chinese calligraphy pieces to learn from people before them as well as to improve their techniques. This is a group exhibition that includes Chinese calligraphy pieces done by its members in styles in which they excel. The artists would like to invite all Chinese calligraphy lovers to come and share their ideas and thoughts with everybody.
Focus:The exhibition displays mainly Chinese calligraphy pieces created by the club members in the styles at which they excel. The exhibited pieces are diverse in style and the artists would like to share their works with other Chinese calligraphy lovers through this exhibition.